Small intestinal bacterial overgrowth (SIBO) is a condition in which there is a high proportion of bacteria living in the small intestine.

Most of the good bacteria that our bodies need exist in the large intestine, which is where they're supposed to be. We have some in the small intestine too, but it's not supposed to be there in a higher proportion than in the large intestine. We're also supposed to have different varieties of good bacteria. What can happen is that some of the bacteria that normally live in the large intestine can migrate up into the small intestine and can cause health problems.

SIBO is common in people who already have gastrointestinal disorders such as celiac disease, irritable bowel syndrome or a motility issue, but it can also be found in people who have diarrhea as their only symptom.
SIBO is increased number and/or type of bacteria in the upper small intestine.
While there may be no symptoms, when present, symptoms include one or more of the following:
Bloating
Abdominal discomfort
Dyspepsia (discomfort in the middle upper abdomen)
Diarrhea
Weight loss
The most common potential causes of SIBO are certain types of gastrointestinal surgery (for example, a gastrojejunostomy, known as Billroth I, scleroderma, and Crohn's disease.
SIBO has gained considerable interest and research attention recently, because it is now known that some (not all) patients with the very common condition, irritable bowel syndrome (IBS) have SIBO. The association of SIBO and IBS was described by gastroenterologist, Mark Pimentel and colleagues nearly 10 years ago. He has written a book entitled, A New IBS Solution: Bacteria - The Missing Link in Treating Irritable Bowel Syndrome (http://www.anewibssolution.com/).
However, it remains unclear whether SIBO causes IBS or is a bystander of something else. A recent comprehensive review by gastroenterologist, Brennan MR Spiegel in a medical journal, Clinical Gastroenterology and Hepatology 2011;9:461-469) concludes that "bacteria may contribute to some IBS symptoms, but that bacteria cannot be the only explanation, and a causal link between SIBO and IBS is not secure."
I agree with this conclusion and a statement made by Dr. Spiegel in the article: "...I use antibiotics in selected patients, such as those with persistent bloating, fullness, or distention despite other failed attempts at management, including assistance from an IBs-trained dietitian."
The most common drug used to treat SIBO associated with IBS is rifaximin (trade name = Xifaxan), but it is not FDA – approved for this treatment, which is considered an off-label application.
Small intestinal bacterial overgrowth (SIBO) refers to a condition in which abnormally large numbers of bacteria are present in the small intestine and the types of bacteria resemble the kind typically found only in the colon (large intestine). This encroachment of bacteria can cause gas, bloating, cramps, diarrhea, and constipation. SIBO may also contribute to food allergies and nutritional deficiencies. The good news is that it's easy to test for and responds well to proper treatment.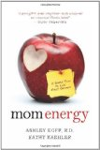 More About this Book
Mom Energy: A Simple Plan to Live Fully Charged
       From celebrated dietitian Ashley Koff and fitness trainer to the stars Kathy Kaehler comes Mom Energy, an exciting new way for moms to tap into their own natural and renewable sources of...
Continue Learning about Digestive Health