If you think you might have an esophageal ulcer, you need to speak to your doctor. Although most ulcers respond well to treatment, you can't treat an ulcer on your own. Your doctor will need to determine what's causing your ulcer in order to tell you how to best treat it. If your ulcer is being caused by bacteria, you will need antibiotics. But if your ulcer is caused by your GERD, you will need drugs that can help you manage your reflux. In addition, ulcers can sometimes become complicated, needing additional treatment. It's better if a doctor can diagnose these complications as soon as possible in order to increase your chances of having fewer negative effects on your body.
Continue Learning about Digestive Health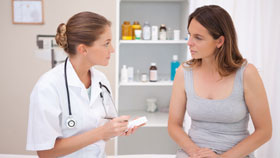 The digestive system includes all parts of the body that process food and expel waste, from your mouth to the end of your digestive tract. Diseases of the gastrointestinal tract prevent your body from effectively using the food yo...
u eat. Learn more about digestive health from our experts.
More