Yes, a rectocele IS a type of pelvic organ prolapse. A rectocele is a hernia or defect in the connective tissue between the rectum and the vagina. This causes a bulging of the rectum into the vagina and makes it very difficult for some women to have bowel movements. Also, patients can have complaints of pelvic pressure, pelvic pain, and difficulty with intercourse.
A rectocele is a type of pelvic organ prolapse where part of the rectum bulges into the vagina. When the muscles and connective tissue around the rectum become weak, the rectum can drop down and protrude into the vaginal canal. This can cause constipation and other bowel movement difficulties. In some cases, a woman may need to push against the protruding rectum in the vagina with a finger in order to have a bowel movement.
Continue Learning about Digestive Health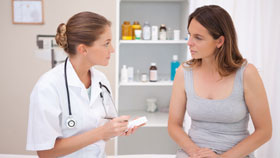 The digestive system includes all parts of the body that process food and expel waste, from your mouth to the end of your digestive tract. Diseases of the gastrointestinal tract prevent your body from effectively using the food yo...
u eat. Learn more about digestive health from our experts.
More