Having swallowing problems (dysphagia) can lead to serious complications such as choking, dehydration, malnutrition and pneumonia, which can be triggered when food or drink enter the lungs. Failure to diagnose and treat swallowing problems can have serious health consequences.
Living with dysphagia not only poses a medical risk, it can negatively affect a person's quality of life and mental health. People with swallowing difficulties often avoid social eating situations and feel isolated.
The prognosis for dysphagia depends upon the type of swallowing problem and the course of the neurological disorder that produces it. In some cases, dysphagia can be partially or completely corrected using diet manipulation or noninvasive methods. In others, especially when the dysphagia is causing aspiration—thereby preventing adequate nutrition and causing weight loss—it may require aggressive intervention such as a feeding tube. For those with progressive degenerative neurological disorders, dysphagia will be only one in a cluster of symptoms and disabilities that have to be treated.
This answer is based on source information from the National Institute of Neurological Disorders and Stroke.
Continue Learning about Digestive Health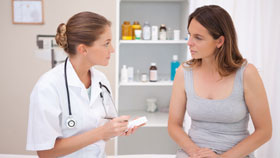 The digestive system includes all parts of the body that process food and expel waste, from your mouth to the end of your digestive tract. Diseases of the gastrointestinal tract prevent your body from effectively using the food yo...
u eat. Learn more about digestive health from our experts.
More