Many women have gas after surgery. Here are some things to do to prevent or treat gas:
Walk more often or a little farther every day.
Stay away from carbonated drinks -- and don't use a straw. Drink warm drinks.
Lay on your left side, with your knees drawn up to your chest. Or get on your knees and lean forward, placing your weight on your folded arms with your buttocks in the air.
When you have gas, gently press on your abdomen every hour, following these steps:
Take a few deep breaths. Blow out slowly.
Place your hands below your navel with the fingertips touching.
Take a deep breath and hold it for 5 counts.
Breathe out slowly and completely through your mouth while pressing in and down on your abdomen.
Move your hands a half-inch closer to your incision, and repeat steps 2 to 4.
Call your doctor if you have continuing or severe abdominal swelling or bloating.
Continue Learning about Digestive Health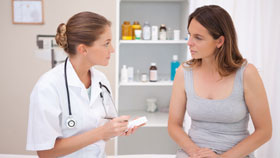 The digestive system includes all parts of the body that process food and expel waste, from your mouth to the end of your digestive tract. Diseases of the gastrointestinal tract prevent your body from effectively using the food yo...
u eat. Learn more about digestive health from our experts.
More