The pancreas is more immunologically active and is more likely to suffer rejection than the kidney. Rejection after pancreatic transplantation is also more difficult to detect than after kidney transplantation.

Patients must be diligent about adhering to their medication regimens, as they are important to the long-term success of the transplant operation. Drug regimens are tailored to the needs of each person, but usually patients take several medications to prevent rejection. These have the effect of making patients more susceptible to infection, particularly in the first few months when higher doses are needed.

Rejection is detected by monitoring blood work such as pancreatic enzymes, monitoring blood sugars, and pancreatic biopsies. If tests indicate signs of rejection, patients should be reassured that many people experience episodes of rejection, and such episodes do not indicate that they will lose their new pancreas. Very often, no symptoms are present, and adjusting the immunosuppressant medications resolves the problem.
Continue Learning about Digestive Health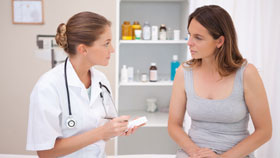 The digestive system includes all parts of the body that process food and expel waste, from your mouth to the end of your digestive tract. Diseases of the gastrointestinal tract prevent your body from effectively using the food yo...
u eat. Learn more about digestive health from our experts.
More