Some of the most commonly treated digestive problems include the following:
constipation
diarrhea
GERD (aka heart burn)
gallstones
celiac disease
irritable bowel syndrome
inflammatory bowel disease (Crohn's disease for example)
diverticulitis
hemorrhoids
Gastroenterologist Manuel Rodriguez, MD, from Blake Medical Center lists some of the common GI disorders he treats, including IBD, diverticulitis and acid reflux. Watch this video to learn more.
Gastroenterology, GI, is a wide specialty that covers many digestion issues. Learn about the most common GI disease with the help of Tarek Ammar, MD, from Southern Hills Hospital & Medical Center, in this video.
The most common GI conditions are chronic liver diseases and obesity, suggests Venkata Nath, MD, of St. Petersburg General Hospital. Watch this video to learn more.
Continue Learning about Digestive Health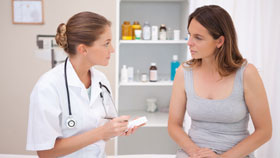 The digestive system includes all parts of the body that process food and expel waste, from your mouth to the end of your digestive tract. Diseases of the gastrointestinal tract prevent your body from effectively using the food yo...
u eat. Learn more about digestive health from our experts.
More