The liver—the organ that's responsible for your metabolism—receives its blood and nutrients from your gut. The liver is always on the job—processing munchies after midnight, as well as 5 a.m. coffee. Your liver takes every chemical in your body and processes it by binding it to a protein, transforming it into something the body can use.

After you've eaten a fast food meal with extra large fries, you liver doesn't want the trans fat from those deep-fried spuds. It wants the other nutrients—the protein from the meat, the carbohydrates from the bun, the lycopene from the tomato, the calcium from the cheese.

But your poor overworked liver gets the toxic trans fat anyway, directly from your intestines and from your omentum (our abdominal fat storage facility) via that portal vein that feeds right into it. When your intestines send that convoy of fat pouring down into the vein, the liver sees it as a runaway train and tries to metabolize it, but in defending the body, inflammatory chemicals are released.

One of these chemicals is a bad guy that causes inflammation (nf-Kappa-B), and one is a good guy that fights inflammation (PPAR). Understanding how they do battle is important in understanding how inflammation that can contribute to oxidative damage, accelerated aging, and obesity.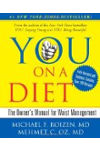 Continue Learning about Digestive Health