The decision to undergo organ transplantation carries with it the responsibility to care for and maintain one's new pancreas, and overall health, for the rest of one's life. This means that patients will need to conscientiously adhere to their medication regimen and their team's recommendations regarding diet, exercise, and lifestyle. Once at home, patients will need to monitor their vital signs, blood sugars, and continue to take their medications as directed in order to prevent rejection of their new organs. Because of the increased risk of infection caused by taking immunosuppressant medications, patients will need to practice excellent hygiene, maintain good dental care, and be vigilant about exposure to infectious diseases. The transplant team provides thorough instructions about all of these issues and is available at all times to answer questions.
Continue Learning about Digestive Health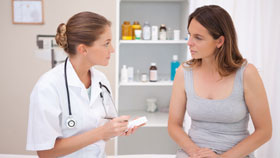 The digestive system includes all parts of the body that process food and expel waste, from your mouth to the end of your digestive tract. Diseases of the gastrointestinal tract prevent your body from effectively using the food yo...
u eat. Learn more about digestive health from our experts.
More