There is a cure for oesophageal ulcers, and most ulcers actually respond positively to measures taken to treat them. Doctors treat oesophageal ulcers through antibiotics and acid reducing or acid prevention medication. Over a period of weeks, if sufferers take their medication and adopt lifestyle changes that reduce the amount of stomach acid produced, ulcers will generally heal. In some cases, the ulcers may return to be treated again. There are some ulcers, however, called refractory ulcers, that will not heal. Diseases other than bacteria or GERD, like stomach cancer, may cause these ulcers. If you smoke, drink alcohol or take illicit drugs, or take nonsteroidal anti-inflammatory drugs often, you also may develop a refractory ulcer. Ulcers can also be refractory if they are exceptionally large (requiring more healing time), were brought about by conditions that cause excessive stomach acid, or are resistant to medicines.
Continue Learning about Digestive Health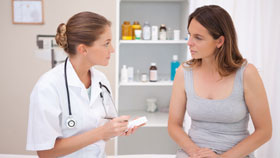 The digestive system includes all parts of the body that process food and expel waste, from your mouth to the end of your digestive tract. Diseases of the gastrointestinal tract prevent your body from effectively using the food yo...
u eat. Learn more about digestive health from our experts.
More