In the United States, herbal products do not undergo rigorous scientific testing and are not approved or regulated by the Food and Drug Administration (FDA). For this reason it is unknown if these products are safe and effective for the medical conditions they claim to prevent and/or treat. Since these products are not regulated by the FDA, there is no guarantee that the products are manufactured in a standard way and the products may actually contain different ingredients and/or amounts of the herbal product. Risks from using these preparations outweigh the potential benefits, especially for individuals who have undergone liver transplantation. Herbal products may affect the immune system function, can interact with transplant medications, and may even be toxic to the new organ. The most important thing to remember is that you should not take any herbal product or medication without first asking a doctor, nurse, or pharmacist from the transplant team.
Continue Learning about Digestive Health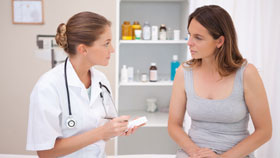 The digestive system includes all parts of the body that process food and expel waste, from your mouth to the end of your digestive tract. Diseases of the gastrointestinal tract prevent your body from effectively using the food yo...
u eat. Learn more about digestive health from our experts.
More