Gallstones and gallbladder disease are more common in women, says gastroenterologist Harsha Vittal, MD, of Good Samaritan Hospital. In this video, he notes why men should still look out for symptoms of gallbladder problems.
Gallbladder disease is more common in women than in men. Part of the reason for this is that much of gallbladder disease is related to gallstones, and women are more prone to forming gallstones due to higher levels of estrogen (particularly during child-bearing years).
In younger age groups, gallbladder disease is more common in women by a significant margin. In older patients, (age 50 and older), there is an even distribution of gallbladder disease between men and women.
Continue Learning about Digestive Health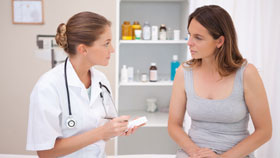 The digestive system includes all parts of the body that process food and expel waste, from your mouth to the end of your digestive tract. Diseases of the gastrointestinal tract prevent your body from effectively using the food yo...
u eat. Learn more about digestive health from our experts.
More