Infections can be very dangerous for a child with Hirschsprung disease (HD). An infection of the large and small intestines is called enterocolitis. It can happen before or after surgery to treat HD. Here are some signs that you can look for:
Fever Swollen abdomen Vomiting Diarrhea Bleeding from the rectum Sluggishness
Call your doctor immediately if your child shows any of these signs. If the problem is enterocolitis, your child may be admitted to the hospital. In the hospital, an intravenous (I.V.) line may be needed to keep up body fluids and deliver antibiotics to fight the infection. The large intestine will be rinsed regularly with a mild saline solution until all remaining stool has been removed. The rinse may also contain antibiotics to kill bacteria.
When the child has recovered from the infection, the doctor may advise surgery. If the child has not had pull-through surgery yet, the doctor may prepare for it by doing a colostomy or ileostomy before the child leaves the hospital. If the child has already had a pull-through operation, the doctor may correct the obstruction with surgery.
Enterocolitis can be life threatening, so watch for the signs and call your doctor immediately if they occur.
This information is based on source information from the National Institute of Diabetes and Digestive and Kidney Diseases.
Continue Learning about Digestive Health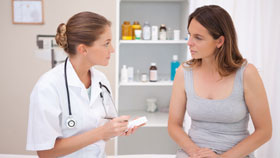 The digestive system includes all parts of the body that process food and expel waste, from your mouth to the end of your digestive tract. Diseases of the gastrointestinal tract prevent your body from effectively using the food yo...
u eat. Learn more about digestive health from our experts.
More