Hepatic encephalopathy is one of the main reasons you should find a partner with your care team. Your care partner has to be given the tools to fly the plane with you as the copilot. Every decision regarding your life and healthcare should be discussed with your care partner. He or she has to be given full information regarding your medications, appointments, insurance, and end of life care decisions. You should also designate your care partner as your healthcare proxy so they may be able to make medical decisions for you in the event you may not be able to make them yourself. It may also be helpful for your care partner to be designated as your power of attorney or to have his or her name put on your checking account so your bills will continue to be paid in the event you cannot pay them yourself.

Work with your care team, not against them. Listen to their advice; don't argue. Double and triple check your decisions, keep a log, organize your papers, keep a list of medications, doctors' names and phone numbers. Follow instructions to the letter. You are not helping your family by being independent or trying not to be a burden. Be a team player. No one can make this journey alone. The surgeon in the operating room does not work without other doctors and nurses. It takes a village working together to make a miracle.
Continue Learning about Digestive Health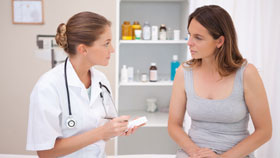 The digestive system includes all parts of the body that process food and expel waste, from your mouth to the end of your digestive tract. Diseases of the gastrointestinal tract prevent your body from effectively using the food yo...
u eat. Learn more about digestive health from our experts.
More