Robotic surgery is used for gallbladder removal the same way minimally invasive surgeries are used, says Matt Johnson, MD, from Sunrise Hospital. Learn more in this video.
Robotic-assisted surgery currently is a very popular method for removal of the gallbladder. Robotic-assisted surgery can prevent the need for open abdominal surgery, unless there is complex gallbladder disease such as cancer. Essentially, instead of a large incision on the right side of the belly with open surgery, robotic surgery requires just three small holes (each about 1 cm) for the arms of the robot. Recovery time is faster with robotic surgery, assuming there are no complications. When robotic surgery is planned, the surgeon will probably advise the person that there is a chance open surgery will be necessary if during the robotic method severe disease is discovered.
Robotic-assisted laparoscopic gallbladder removal can be accomplished through just one small incision (typically, a laparoscopic gallbladder removal is done through four small incisions). In the robotic procedure, a new type of access device with small instruments can be inserted in the area around the belly button and remove the gallbladder. This results in one versus four scars, and one area of pain versus four. There are real advantages to that.

Trinity Health is a Catholic health care organization that acts in accordance with the Catholic tradition and does not condone or support all practices covered in this site. In case of emergency call 911. This site is educational and not a substitute for professional medical advice, always seek the advice of a qualified healthcare provider.
Continue Learning about Digestive Health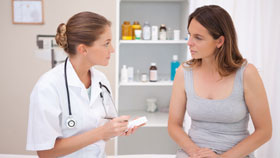 The digestive system includes all parts of the body that process food and expel waste, from your mouth to the end of your digestive tract. Diseases of the gastrointestinal tract prevent your body from effectively using the food yo...
u eat. Learn more about digestive health from our experts.
More