Ulcers that fail to heal, or refractory ulcers, can affect the body if they become complicated. For instance, scar tissue around the reoccurring ulcer can cause changes in your dietary functions. The tissue may make it harder for you to pass food through your digestive tract, leading to weight loss and dehydration. In addition, individuals with ulcers are at risk of hemorrhage, or internal bleeding, which can cause anemia. Finally, another way in which refractory ulcers affect the body is through the increased risk of stomach cancer. People who have ulcers that are caused by H. pylori bacteria-the most common cause of peptic ulcers - are three to six times more likely to get stomach cancer than unaffected persons. Interestingly, ulcers caused by anything but H. pylori do not increase a sufferer's risk of stomach cancer.
Continue Learning about Digestive Health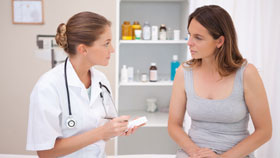 The digestive system includes all parts of the body that process food and expel waste, from your mouth to the end of your digestive tract. Diseases of the gastrointestinal tract prevent your body from effectively using the food yo...
u eat. Learn more about digestive health from our experts.
More