Jared Frattini, MD from Medical Center of Trinity speaks on how rectal prolapse can cause fecal incontinence in this video.
Fecal incontinence (unintended passage of stool) can result if your pelvic floor muscles become weak, or contract and relax at inappropriate times. When the muscles supporting the rectum are weak, the rectal lining can prolapse, shifting downward into the anal canal or even protruding from the body. If you have a rectal prolapse, you may feel an urgent need to go even when little stool is present. Your external anal sphincter must work harder to keep you continent, and the prolapse itself can cause sphincter damage. Most people with rectal prolapse have some degree of fecal incontinence.
Continue Learning about Digestive Health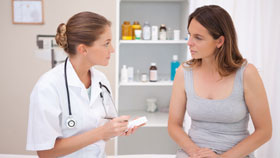 The digestive system includes all parts of the body that process food and expel waste, from your mouth to the end of your digestive tract. Diseases of the gastrointestinal tract prevent your body from effectively using the food yo...
u eat. Learn more about digestive health from our experts.
More