Patients must take many medications after a liver transplant: some to prevent rejection (immunosuppressants), some to fight infection, and others to treat the side effects of the immunosuppressants. Patients returning home after transplantation will be taking approximately 7 to 10 different types of medicines. As the patient heals and recovers health with the help of the new liver, dosages and number of medications are reduced over time. By six months, it is common to be down to 1 or 2 medications. However, patients will be taking immunosuppression medications for the rest of their lives in virtually all cases. It is vital that these medications are taken as prescribed, in the proper amounts, and at the specified times. Missing medication doses or discontinuing them on one's own can lead to rejection and organ failure.
Continue Learning about Digestive Health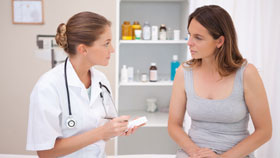 The digestive system includes all parts of the body that process food and expel waste, from your mouth to the end of your digestive tract. Diseases of the gastrointestinal tract prevent your body from effectively using the food yo...
u eat. Learn more about digestive health from our experts.
More