Even mild dyspepsia can have a significant effect on day-to-day quality of life. The key is to reduce the stress put on your stomach and digestive system. Any daily medications that can irritate your digestive system should, with the approval of your doctor, be limited or eliminated entirely. Any medications such as antacids that are prescribed by your doctor should be taken according to directions. Perhaps the best way to reduce stomach irritation on a daily basis is simply by focusing on diet and stress control. Avoid foods that irritate your stomach, such as spicy or greasy foods, or caffeine and alcohol. Eat your meals in a calm and relaxing setting, go for daily walks, and make sure you are well rested.
Continue Learning about Digestive Health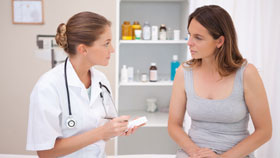 The digestive system includes all parts of the body that process food and expel waste, from your mouth to the end of your digestive tract. Diseases of the gastrointestinal tract prevent your body from effectively using the food yo...
u eat. Learn more about digestive health from our experts.
More