The recovery process after gallbladder surgery is between a week to two weeks depending on your day-to-day activities. Watch Bryan Shouse, MD, of Frankfort Regional Medical Center, explain the side effects of gallbladder surgery.
It typically takes patients one week to recover from gallbaldder removal surgery, says Matthew Couch, MD, in general surgery at St. Petersburg General Hospital.
The recovery time from gallbladder surgery depends on a few things, including the type of surgery and the degree to which the gallbladder is diseased. More severely infected or diseased gallbladders can delay healing time. Also, open procedures typically take more time to recover from than laparoscopic procedures. In general, a patient can expect to be in the hospital one to three days depending on the factors listed above. Your surgeon will the likely place you on a heavy lifting restriction for four to six weeks after the surgery while your abdomen heals.
Most surgeries to remove gallbladders today are done laparoscopically. These are minimally invasive procedures that require few or no stitches. You may be able to return home the same day or the following day after surgery.
You may also be able to resume your usual daily activities -- with the exception of heavy lifting -- within a day or so of returning home. Within a week, you will probably be 80 to 90 percent recovered, and within two weeks after surgery, you should be able to resume all your pre-surgery activities. Your doctor may recommend that you consume a low-fat diet for at least a month after surgery.
Continue Learning about Digestive Health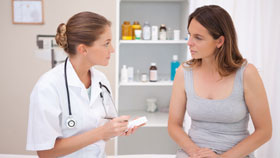 The digestive system includes all parts of the body that process food and expel waste, from your mouth to the end of your digestive tract. Diseases of the gastrointestinal tract prevent your body from effectively using the food yo...
u eat. Learn more about digestive health from our experts.
More