A living-donor candidate for liver transplantation must complete the following evaluation process to determine if they can safely donate:
A blood test determines if the donor's blood type is compatible with that of the recipient. Additional tests are performed to test for healthy functioning of the donor's liver, kidneys, and thyroid, and to screen for exposure to transmittable viruses such as hepatitis and human immunodeficiency virus (HIV), the virus that causes acquired immune deficiency syndrome (AIDS).
If the donor's and recipient's blood types are compatible, a physical examination with a physician is scheduled to further assess the donor's overall heath.
Consultations with a social worker and psychiatrist are scheduled with the donor and their designated care-partner.
Magnetic Resonance Imaging (MRI) is performed to create a detailed anatomical "road map" of the donor's internal organs to aid the surgery.
Sometimes additional testing, such as pulmonary function, echocardiogram, or exercise stress testing, is required.
The standard time required to complete the donor evaluation process is two to four weeks; in rare emergency situations, however, it can be completed in as little as 48 hours.
Continue Learning about Digestive Health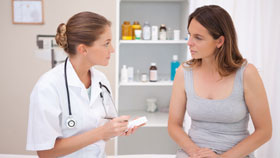 The digestive system includes all parts of the body that process food and expel waste, from your mouth to the end of your digestive tract. Diseases of the gastrointestinal tract prevent your body from effectively using the food yo...
u eat. Learn more about digestive health from our experts.
More