A surgeon removes your appendix by cutting where it joins the first part of the colon. This is often done using a surgical stapler, which closes the cut tissue at the same time to prevent leakage of feces. The appendix also has blood vessels that are cut and tied off in a similar manner. Most commonly this is done using laparoscopic surgery, which allows for smaller cuts and faster healing time.
Surgery is required to remove the appendix. This can be done through an open incision or using minimally invasive techniques known as laparoscopy where the surgeon puts a small camera in the belly button and uses small incisions to remove the appendix. Surgeons may also use a single-incision laparoscopic approach through the belly button so there are no visible scars after surgery. In some cases, appendicitis is now being treated without surgery and with antibiotics alone. However, not all children will do well with this approach. One in five children will not get better on antibiotics and will still need to have the appendix removed within the first few days. Moreover, 20 to 40 percent will develop appendicitis again in the next 6 to 12 months.
Continue Learning about Digestive Health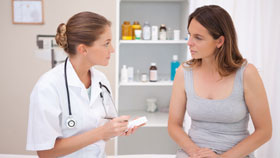 The digestive system includes all parts of the body that process food and expel waste, from your mouth to the end of your digestive tract. Diseases of the gastrointestinal tract prevent your body from effectively using the food yo...
u eat. Learn more about digestive health from our experts.
More