We diagnose achalasia by manometry, a test to measure esophagus movement and pressures of squeeze. It's a test done wide awake, in which a thin pressure probe is inserted down your nose and into your esophagus. You are then asked to swallow liquids of various viscosity (thickness) to see how your esophagus moves. If the test shows limited esophagus peristalsis and a lower esophageal sphincter that fails to open with swallows, voila, you've got achalasia. We often also do an upper endoscopy (look into the esophagus and stomach with a scope; this test is sedated) to make sure that you don't have pseudoachalasia, in which a tumor just below your lower esophageal sphincter mimics achalasia.
Continue Learning about Digestive Health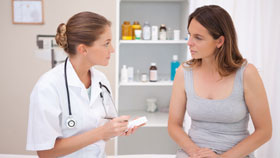 The digestive system includes all parts of the body that process food and expel waste, from your mouth to the end of your digestive tract. Diseases of the gastrointestinal tract prevent your body from effectively using the food yo...
u eat. Learn more about digestive health from our experts.
More