You can improve digestion by not drinking iced water, since that can put out your digestive fire; and eating a ginger/lemon/salt combination that stimulates that fire. Watch as integrative medicine specialist Nita Desai, MD, discusses these tips.
Fiber and "good" bacteria in the form of probiotics will help your digestive system break down food, which enhances your immune system. Having a clean gut provides a host of benefits, including weight loss. You may also want to do the occasional cleanse to rid yourself of added weight that's stuck inside your intestines.

Beneficial bacteria can be found in cultured foods such as yogurt, but are also now available in other dairy foods, such as some varieties of cottage cheese. Also, supplements in tablet, capsule, or powder forms (such as acidophilus or bifidus) are common. If the probiotic is being taken for maintenance or preventive purposes, a reasonable dose would be about 1 billion organisms two or three times weekly.
Continue Learning about Digestive Health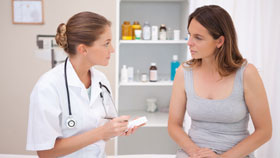 The digestive system includes all parts of the body that process food and expel waste, from your mouth to the end of your digestive tract. Diseases of the gastrointestinal tract prevent your body from effectively using the food yo...
u eat. Learn more about digestive health from our experts.
More