If you've ever had food poisoning, you know your gut is an uncompromising vigilante. When a nasty microbe hitchhikes a ride into the body on the back of real food, the gut quickly recognizes the interloper and strong-arms it to the nearest exit. To make the ID in the first place, it calls upon a reliable army of sentries, millions of immune system cells residing in its walls.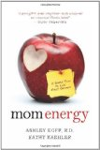 More About this Book
Mom Energy: A Simple Plan to Live Fully Charged
       From celebrated dietitian Ashley Koff and fitness trainer to the stars Kathy Kaehler comes Mom Energy, an exciting new way for moms to tap into their own natural and renewable sources of...
Continue Learning about Digestive Health