When evaluating whether your gastrointestinal symptoms -- such as heartburn, abdominal cramps, or loose stools -- are related to stress, watch for these other common symptoms of stress and report them to your clinician as well.
Physical symptoms
Stiff or tense muscles, especially in the neck and shoulders
Headaches
Sleep problems
Shakiness or tremors
Recent loss of interest in sex
Weight loss or gain
Restlessness
Behavioral symptoms
Procrastination
Grinding teeth
Difficulty completing work assignments
Changes in the amount of alcohol or food you consume
Taking up smoking, or smoking more than usual
Increased desire to be with or withdraw from others
Rumination (frequent talking or brooding about stressful situations)
Emotional symptoms
Crying
Overwhelming sense of tension or pressure
Trouble relaxing
Nervousness
Quick temper
Depression
Poor concentration
Trouble remembering things
Loss of sense of humor
Indecisiveness
Continue Learning about Digestive Health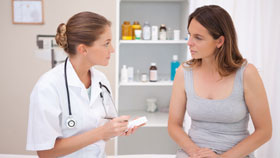 The digestive system includes all parts of the body that process food and expel waste, from your mouth to the end of your digestive tract. Diseases of the gastrointestinal tract prevent your body from effectively using the food yo...
u eat. Learn more about digestive health from our experts.
More