A surgeon will usually remove the gallbladder by making small cuts in the abdomen that allow him or her to insert a camera, a grasping tool and a cutting tool. The abdomen is then filled with air to create space to work in. If the gallbladder can be seen well with the camera, it can be pulled away from the surrounding organs, then cut away and removed through one of the small holes. The surgeon then ensures that there is no continued bleeding before closing up the small holes. This method doesn't always work, however. Sometimes the surgeon needs to make a larger incision due to difficulty visualizing or accessing the area, or to control bleeding.
IIn most cases, the surgery to remove the gallbladder, known as cholecystectomy, can be performed using minimally invasive techniques and rarely has long-term side effects. Complications occur most often when the gallbladder has become acutely inflamed or gangrenous and patients need emergency treatment and more extensive surgery. According to F. Charles Brunicardi, M.D., chief of the Santa Monica-UCLA General Surgery Group and vice chair of the Department of Surgery at UCLA Medical Center, Santa Monica, the best time to treat gallstones is between episodes.
Continue Learning about Digestive Health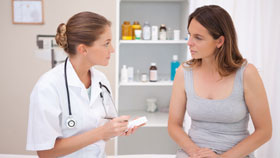 The digestive system includes all parts of the body that process food and expel waste, from your mouth to the end of your digestive tract. Diseases of the gastrointestinal tract prevent your body from effectively using the food yo...
u eat. Learn more about digestive health from our experts.
More