Fiber is material that the body has a hard time digesting. So rather than being absorbed into the body, it stays in the bowel and adds bulk to its contents. This bulk gives the colon something to "grab onto" as its muscles contract like a wave, thus making it easier for the colon to empty itself. This prevents constipation.

Another important role of fiber in the colon is to prevent the overgrowth of bacteria. "Friendly" bacteria living inside the colon feed on fiber. Some important byproducts of this feeding are called short-chain fatty acids. These acids make it difficult for too much bacteria to live in your colon.
Continue Learning about Digestive Health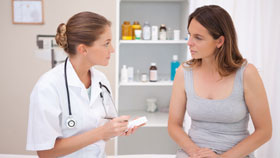 The digestive system includes all parts of the body that process food and expel waste, from your mouth to the end of your digestive tract. Diseases of the gastrointestinal tract prevent your body from effectively using the food yo...
u eat. Learn more about digestive health from our experts.
More