Esophageal spasms occur when the muscles in the esophagus irregularly contract. This causes difficulty swallowing food or drink and can sometimes cause severe chest pain. The cause of esophageal spasms is unknown, but eating very hot or very cold foods can trigger them, as well as an esophageal disease, like GERD (gastroesophageal reflux disease) or achalasia.

Achalasia is a rare motility disorder of the esophagus that can present with spasms and difficulty swallowing. Achalasia can be diagnosed by barium X-ray, but the best test is an esophageal manometry, which should always be done before considering dilation or Botox injections. In very rare cases, surgery can become necessary.

The surgery options are a myotomy or an esophagectomy. A myotomy is performed to weaken the contraction of the muscles in the esophagus, whereas an esophagectomy is removal of part, or all, of the esophagus. This is an extreme measure, and all other treatments should be exhausted before coming to this decision.
Continue Learning about Digestive Health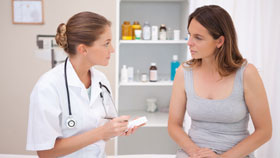 The digestive system includes all parts of the body that process food and expel waste, from your mouth to the end of your digestive tract. Diseases of the gastrointestinal tract prevent your body from effectively using the food yo...
u eat. Learn more about digestive health from our experts.
More