After a potential liver donor is identified following brain death, the donor undergoes a very careful medical evaluation and review of behavioral risk factors by a medical professional forum, the organ procurement organization (OPO).

Due to the time constraints of organ viability, donors cannot be tested for every random and rare illness. Potential donors are tested for a variety of illnesses including human immunodeficiency virus (HIV), Hepatitis B/C, human T-cell lymphotropic viruses ([HTLV] lymphoma virus), and West Nile to name a few. For liver transplantation, there is always a liver biopsy performed to determine the amount of fat present in the liver, unknown liver disease or scarring.

Throughout this testing period, the brain death donor continues to require careful monitoring of acid base, glucose, coagulation abnormalities, anemia, body temperature, blood pressure, and ventilation in order to maintain donor eligibility. In addition to medical testing, a history about behavioral risk factors is obtained to help determine the donor's infectious disease risk. Information about drug use, tattoos, unprotected sex, alcohol/tobacco use, prostitution, and incarceration histories are obtained from family members. Only after extensive medical testing and evaluation are completed will an organ be offered to a potential recipient.
Continue Learning about Digestive Health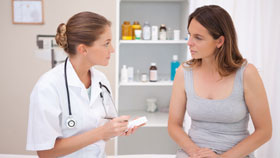 The digestive system includes all parts of the body that process food and expel waste, from your mouth to the end of your digestive tract. Diseases of the gastrointestinal tract prevent your body from effectively using the food yo...
u eat. Learn more about digestive health from our experts.
More