When you eat a carbohydrate, it is broken down into glucose, a simple sugar. In fact, any macronutrient (protein, carbohydrate, or fat) can be broken down into a glucose by-product-carbohydrates are just the easiest to break down into glucose because a carbohydrate is really just one long glucose string. The glucose is then absorbed and carried to all your cells by your bloodstream. When your pancreas senses sugar, it responds by secreting insulin, which goes to every cell in your body and attaches to insulin receptors. It's like a key fitting into a lock. Once the insulin attaches to the receptor, glucose is allowed to enter the cell. If glucose can't enter the cell, it builds up in the blood and becomes toxic. If a cell doesn't sense enough glucose coming into it, it sends a signal to the pancreas to produce more insulin. It will have a chemical reaction because the cells need glucose to sustain not just their life but your life as well. This important reaction is pretty simple. Glucose combines with oxygen inside the cell to produce adenosine triphosphate (ATP), an energy storage unit. You can think of ATP as a battery. It supplies the energy to drive all the reactions in your body so that you can live. When your cells don't get the glucose they need to make the energy juice ATP, it's just like what happens to your car when the battery dies: it won't start.
Continue Learning about Digestive Health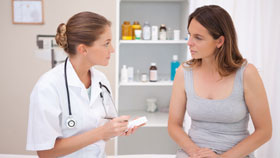 The digestive system includes all parts of the body that process food and expel waste, from your mouth to the end of your digestive tract. Diseases of the gastrointestinal tract prevent your body from effectively using the food yo...
u eat. Learn more about digestive health from our experts.
More