Located on the lower right side of the abdomen just below your diaphragm, the liver functions as your body's foolproof lie detector test, revealing the truth about the life you've lived thus far. While it was once thought that liver disease was caused by alcohol use alone, eating sugary or fatty foods for extended years are now known to damage the liver as well.
Your liver acts primarily as your body's filter, cleaning the blood and aiding digestion and metabolism. A fatty liver occurs when your body becomes overrun with fats and is no longer able to detoxify itself. A healthy diet rich in greens and lean protein allows your liver to do its job properly without being overrun by toxins. However, when you indulge for years in unhealthy items such as those associated with the all-American diet -- doughnuts, fried chicken, and burgers -- your liver clogs up, becoming fatty and toxic.
Conditions such as diabetes and obesity that are normally associated with a clogged heart are also tied to a clogged liver. In fact, bodily damage starts in the liver before it snakes it way up to the heart.
This content originally appeared on
doctoroz.com
Continue Learning about Digestive Health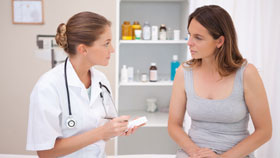 The digestive system includes all parts of the body that process food and expel waste, from your mouth to the end of your digestive tract. Diseases of the gastrointestinal tract prevent your body from effectively using the food yo...
u eat. Learn more about digestive health from our experts.
More