Dyspepsia can be treated with a variety of over-the-counter and prescription drugs. Doctors will often recommend starting with a course of over-the-counter antacids like Alka-Seltzer or Maalox first. These types of medications help neutralize stomach acid to relieve symptoms. If those don't work, doctors may recommend a prescription medication, depending on the root cause of the dyspepsia. H-2-receptor antagonists like Zantac and proton pump inhibitors like Prilosec help reduce stomach acid, while prokinetics like Reglan will be prescribed for slow or backed-up digestive systems. In less common cases, antibiotics (in the case of peptic ulcers causing dyspepsia) or antidepressants (to dull stomach pain if no other cause can be determined) may be prescribed.
Continue Learning about Digestive Health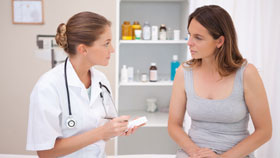 The digestive system includes all parts of the body that process food and expel waste, from your mouth to the end of your digestive tract. Diseases of the gastrointestinal tract prevent your body from effectively using the food yo...
u eat. Learn more about digestive health from our experts.
More