Dealing with an upset stomach? Watch as Dr. Oz and his wife Lisa discuss their favorite remedy for an upset stomach -- ginger. Ginger is a powerful anti-inflammatory and may even speed up digestion, making it a great option for stomach aches.
Ginger ale, saltines, and other dry crackers may help soothe an upset stomach. An over-the-counter antacid, such as Tums, may also help calm an unsettled stomach.
(This answer provided for NATA by the Southern Connecticut State University Athletic Training Education Program)
Try these things when your stomach is upset:
Rest. Moving around can make things worse.
Sip liquid. Sip water, clear soda, and juice. Also, for babies and kids, try drinks like Pedialyte or Ricelyte. You can buy these in a store. Babies can keep breastfeeding. If your child won't drink, give Popsicles to suck on.
Stay away from food smells. Don't cook. Don't go in restaurants or other places that smell like food.
Eat bland foods. Snack on food like crackers and toast. If you can keep these down, try cereal, rice, and fruit. Don't eat fatty or spicy food.
Continue Learning about Digestive Health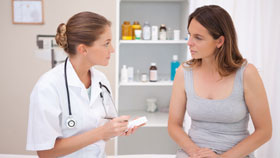 The digestive system includes all parts of the body that process food and expel waste, from your mouth to the end of your digestive tract. Diseases of the gastrointestinal tract prevent your body from effectively using the food yo...
u eat. Learn more about digestive health from our experts.
More