You have stretch-detecting nerve endings in the rectum, which has walls that stretch to hold stool. When your nerves detect that the rectum is full, the internal anal sphincter opens briefly and lets a tiny bit of the rectum's contents come in contact with the external sphincter, which is rich with nerve endings. In a rapid "sampling reflex," these nerves inform the brain about whether the rectal contents are intestinal gas or liquid or solid stool. This allows you to act accordingly. You might allow gas to escape, or look for a bathroom right away if you have diarrhea. Otherwise, you might decide whether it is convenient to have a bowel movement, or whether you want to wait for a more convenient time or place.
Continue Learning about Digestive Health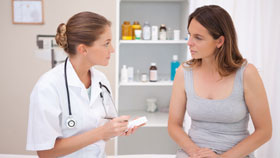 The digestive system includes all parts of the body that process food and expel waste, from your mouth to the end of your digestive tract. Diseases of the gastrointestinal tract prevent your body from effectively using the food yo...
u eat. Learn more about digestive health from our experts.
More