Colon polyps can often be removed during the time of colonoscopy, but some require surgery. In this video, W. Cannon Lewis, MD of Methodist Stone Oak Hospital explains the procedures for which someone might have a polyp removed.
Doctors remove polyps when they're discovered in colonoscopy, says Stephanie Wishnev, MD, a colorectal surgeon at MountainView Hospital. In this video, she says instruments can bite, snare or burn them with electricity.
Polyps are generally able to be removed while the doctor is performing a colonoscopy, in which a camera is used to see the inside of the rectum and colon. Several different techniques are used to remove polyps, and it generally depends on the size and type of polyp. Some of the techniques include the snare with electrocautery, which is like a small noose that gets hot so it can cut the base of the polyp. Some polyps are so large, they must be divided into many separate pieces and collected in a net.
Removal of colon polyps is an important means of preventing colon cancer, as the majority of cancers develop from polyps.

Tiny polyps may be completely destroyed by biopsy. Larger polyps are removed by a technique called snare polypectomy, in which a wire loop is passed through the colonoscope and the polyps are cut from the intestinal wall by means of a small electrical current.
Colon polyps are removed in two ways, depending on the size of the polyp. Small ones can be removed with a grasper with small teeth, land arger ones can be snared on, like a lasso, with electrocurrent going through it to ensure that there's no bleeding.
The tiniest colon polyps are removed by burning or cauterizing them; larger colon polyps can usually be removed using a specially designed snare which cuts the stalk of a polyp and cauterizes it at the same time, so that it does not bleed. The snare is passed through a channel in the colonoscope to accomplish this.

Occasionally, surgery may be necessary to remove the polyps, either because the stalk or neck of the polyp is too broad to permit safe snaring, or because the colon is positioned in such a way that the colonoscope will not reach the polyp area safely.

The great majority of polyps, however, can be removed without surgery.

There are a lot of good techniques for removing polyps from the colon including injecting saline just underneath the polyp to raise it up so surgeons can see it to remove it. However, there are some situations where polyps are either in a crevice and can't be removed safely or surgeons have tried to remove a polyp several times and it continues to return. In those cases, sooner or later a person is going to come back with cancer there. Those are the people on whom we'll oftentimes perform a hemicolectomy to completely eradicate the area where the polyp is, or eradicate the polyp completely to prevent it from turning into cancer.

Some people have multiple polyps throughout their colon. They have 5 to 10 polyps in maybe a year or a year and half. In these people, doctors also use a more aggressive surgery to remove the area of the colon that is at risk.
Your doctor may destroy tiny colon polyps by fulguration (burning) or by removing them with wire loops called snares or with biopsy instruments. Your doctor will use a technique called "snare polypectomy" to remove larger polyps. Your doctor will pass a wire loop through the colonoscope and remove the polyp from the intestinal wall using an electrical current. You should feel no pain during the polypectomy (polyp removal).

Continue Learning about Digestive Health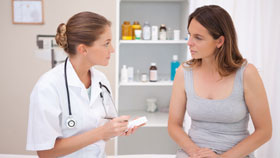 The digestive system includes all parts of the body that process food and expel waste, from your mouth to the end of your digestive tract. Diseases of the gastrointestinal tract prevent your body from effectively using the food yo...
u eat. Learn more about digestive health from our experts.
More