Generally colon polyps cause no symptoms, which is why we recommend regular screenings; however, they can cause bleeding or obstruction when large. The best screening method is colonoscopy, through which your doctor can find and remove polyps before they become cancerous. In addition, when colon cancer is found early, it is quite treatable.
Most colon polyps cause no symptoms. Larger ones can cause blood in the stool, but even they are usually asymptomatic. Therefore, the best way to detect polyps is by screening individuals with no symptoms. Several other screening techniques are available: testing stool specimens for traces of blood, performing sigmoidoscopy to look into the lower third of the colon or using a radiology test such as a barium enema or computed tomography (CT) colonography.

If one of these tests finds or suspects polyps, your doctor will generally recommend colonoscopy to remove them. Because colonoscopy is the most accurate way to detect polyps, many experts now recommend colonoscopy as a screening method so that any polyps found or suspected can be removed during the same procedure.
Continue Learning about Digestive Health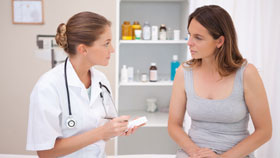 The digestive system includes all parts of the body that process food and expel waste, from your mouth to the end of your digestive tract. Diseases of the gastrointestinal tract prevent your body from effectively using the food yo...
u eat. Learn more about digestive health from our experts.
More