In this video, Jared Frattini, MD from Medical Center of Trinity explains some methods of treatment for anal fissures.
Treatment of fissure begins with warm soaks and use of ointments to relax the sphincter muscle, says Stephanie Wishnev, MD, a colorectal surgeon at MountainView Hospital. In this video, she says that next steps include Botox to relax the muscle.
An anal fissure is a tear in the lining of the anus, which can produce severe pain when producing a bowel movement, as well as blood in or around the toilet, or on the toilet paper. Treatment takes approximately 4-6 weeks. First line treatment includes sitting in sitz baths (sitting in warm water) for about 20 minutes, increasing dietary fiber and fluids, and using stool softeners or laxatives to promote soft, easy to pass bowel movements. If the fissure lasts for 6 weeks and is not getting better with the above treatments, additional treatment is recommended. Medications such as nitroglycerine cream and calcium channel blockers can reduce the pressure on the anal sphincter to help allow the fissure to heal. In some cases, Botox can also be injected to help reduce the muscle tension in the internal anal sphincter and allow the fissure to heal.
About 50% of anal fissures heal, either by themselves or with the use of a medicated cream or ointment. Stool softeners and sitz baths (soaking the anal area in plain warm water for 15-20 minutes) may also be helpful.

A persistent anal fissure should be re-examined to see whether a definite reason exists for lack of healing. Such reasons may include scarring or muscle spasm of the internal anal muscle. Those fissures that continue to cause pain or bleeding can be corrected by surgery.
Fissures respond well to warm soaks (sitz baths), stool softeners and increasing the amount of fiber and water in the diet. I also recommend lubricating the toilet paper with petroleum jelly prior to wiping. Nitroglycerin ointment and calcium channel blockers help to relax the sphincter and for refractory fissures injection of botulinum toxin A into the anal sphincter can also help with healing.
Most anal fissures are treated successfully with simple remedies such as fiber supplements, stool softeners (if constipation is the cause) and warm baths. Your doctor may also prescribe a cream to soothe the inflamed area. Other options for fissures that do not heal with medication include treatment to relax the muscles around the anus (sphincters) or surgery.
Continue Learning about Digestive Health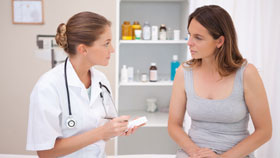 The digestive system includes all parts of the body that process food and expel waste, from your mouth to the end of your digestive tract. Diseases of the gastrointestinal tract prevent your body from effectively using the food yo...
u eat. Learn more about digestive health from our experts.
More