In the esophagus, swallowing can become more difficult as people age. Such problems are usually the result of neurological or muscular disorders. Very old people sometimes experience a weakening of the muscles of the esophagus, which contract less vigorously around food after swallowing. Acid reflux is often a problem in the elderly, the result of the decline in esophageal contractions and in the function of the lower esophageal sphincter muscle. However, since the esophagus can be less sensitive to acid with age, acid reflux might not result in heartburn. Instead, patients complain of nausea or vague chest discomfort. Any new onset of difficulty in swallowing should be evaluated by a doctor because the problem could be related to cancer of the esophagus or to a motor disorder (achalasia), more common in those who are older.
Continue Learning about Digestive Health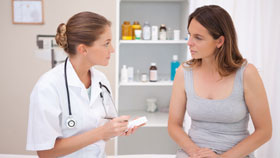 The digestive system includes all parts of the body that process food and expel waste, from your mouth to the end of your digestive tract. Diseases of the gastrointestinal tract prevent your body from effectively using the food yo...
u eat. Learn more about digestive health from our experts.
More