Most changes in cell division and growth create benign colon polyps (adenomas), a seemingly harmless bump or tag. But these polyps can also take a turn for the worse and transform into an advanced adenoma or cancerous mass that cannot only narrow or block the opening of the tube, but also break through the wall to invade nearby lymph nodes and travel to metastasize elsewhere in the body. Since you won't know if and when they will become a threat, you need to get them removed.
Finding and removing benign polyps can reduce the risk of colon cancer substantially and finding and removing cancer early, at a more curable stage, can save lives. Nearly 25% of 50 year olds develop polyps and 5% of these are cancerous.
This content originally appeared on
doctoroz.com
Continue Learning about Digestive Health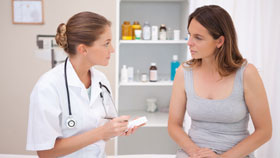 The digestive system includes all parts of the body that process food and expel waste, from your mouth to the end of your digestive tract. Diseases of the gastrointestinal tract prevent your body from effectively using the food yo...
u eat. Learn more about digestive health from our experts.
More