Stomach ulcers are mostly caused by either an infection caused by a bacteria (called H. pylori), or by anti-inflammatory medications, including over-the-counter aspirin, ibuprofen (Advil, Motrin), naprosyn (Aleve) and prescription medications such as diclofenac (Cataflam) and etodolac. These medications are called non-steroidal anti-inflammatory drugs (NSAIDs), and they can irritate the stomach lining, leading to the formation of stomach ulcers. Symptoms of a stomach ulcer include burning and gnawing abdominal pain, bloating, and/or queasiness. Stopping the use of NSAIDs is advisable when these symptoms appear.
Continue Learning about Digestive Health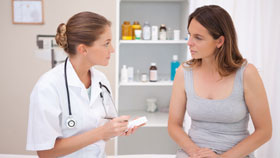 The digestive system includes all parts of the body that process food and expel waste, from your mouth to the end of your digestive tract. Diseases of the gastrointestinal tract prevent your body from effectively using the food yo...
u eat. Learn more about digestive health from our experts.
More