Polyps and early cancers often exhibit no symptoms, which is why routine colorectal screening is important. Often, polyps can be detected and removed before cancer develops.

For men and women at average risk, screening should begin at age 50. Recommended screening options include:

• colonoscopy every 10 years
• flexible sigmoidoscopy every 5 years
• double-contrast barium enema (lower GI series) every 5 years
• CT colonography every 5 years
• fecal occult blood test or fecal immunochemistry test every year
• DNA stool testing

Men and women with certain risk factors - such as a personal or family history of colorectal polyps or cancer - need to talk with their doctor about getting screened at a younger age. If any of the screening options show polyps or a positive result (abnormal), a follow-up colonoscopy is recommended.
Continue Learning about Digestive Health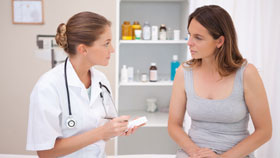 The digestive system includes all parts of the body that process food and expel waste, from your mouth to the end of your digestive tract. Diseases of the gastrointestinal tract prevent your body from effectively using the food yo...
u eat. Learn more about digestive health from our experts.
More