The primary role of the colon, which is about five to six feet long, is to reabsorb water so that a solid stool is formed. Once digested food leaves the terminal ileum, it enters the colon. Very little to no vitamin and mineral absorption occurs in the colon, which is why if you have a colectomy (the removal of your colon), you don't become malnourished.
The colon's major goal is to suck fluid back into your body; when bacteria from an unsanitary cheese dog in Mexico City hinders its function, that's right, you get diarrhea. Typically, as the liquid drains out, it leaves a solid mass of waste—your feces (or caca, if you're trying to be polite or potty-train your child). As caca gets harder and harder, it moves down to the muscular rectum at the bottom of your digestive system. Waste exits your body through the rectum when you relax your sphincter muscles.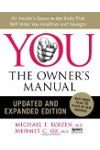 The colon's function is to absorb water and salts out of your stool material. The body stores those substances and then gets rid of them.
Continue Learning about Digestive Health