Food does not simply drop down the esophagus by means of gravity. Matter moves through this passageway because it is pushed by contractions of the esophageal muscles.

Think of the esophagus (along with the intestine) as an empty tube surrounded by layers of muscle that contract in a succession of waves. As the ball of food, called a bolus, travels toward the far end of the 10- to 13-inch-long tube, the lower esophageal sphincter opens to allow the food to exit, then closes again. This esophageal tube is quite elastic, stretching to nearly two inches across to accommodate foods of various sizes.

While the esophagus is moving things along, it also has to keep things from backing up (regurgitating) and re-entering the throat. That's where another gatekeeper, known as the upper esophageal sphincter, comes into play. The two sphincters, upper and lower, make sure the food doesn't back up in the wrong direction.
Continue Learning about Digestive Health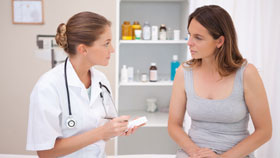 The digestive system includes all parts of the body that process food and expel waste, from your mouth to the end of your digestive tract. Diseases of the gastrointestinal tract prevent your body from effectively using the food yo...
u eat. Learn more about digestive health from our experts.
More