Most of us have been warned at some point in childhood not to swallow gum because it stays in your intestines for 7 years. As a gastroenterologist who spends a lot of her time knee-deep in the digestive tract, I'm happy to tell you the only time I've ever encountered a piece of gum was in the stomach of a patient who swallowed it immediately before his endoscopy procedure.

Gum is sticky and made up of a lot of chemicals, but it's not really any different from any other synthetic foods we eat on a regular basis. Although some of the ingredients are not well digested (glycerin, sorbitol, mannitol, artificial flavoring and preservatives), the stickiness of gum doesn't mean it sticks to the lining of the gastrointestinal tract. In fact, it passes out in the stool without any difficulty.

Still, the foundation of a healthy diet is to maximize fruits and vegetables and minimize edible food-like substances. So, when it comes to gum -- chew but don't swallow!
Continue Learning about Digestive Health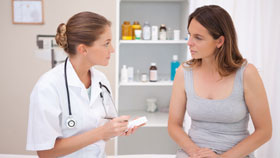 The digestive system includes all parts of the body that process food and expel waste, from your mouth to the end of your digestive tract. Diseases of the gastrointestinal tract prevent your body from effectively using the food yo...
u eat. Learn more about digestive health from our experts.
More