Sadly, that cookie you dropped on the floor needs to go in the trash. During an internship at the University of Illinois in 2003, high-school student Jillian Clarke disproved the idea that food swiped off the floor in less than five seconds is free of germs. Clarke tested gummy bears and cookies dropped onto tiles coated with E. coli bacteria and learned that bacteria hopped aboard anything within five seconds. Following her work, researchers at a South Carolina university found that salmonella bacteria could survive on tile and wood for weeks and thrived on nylon carpet. In their study, food dropped onto the floor picked up between 150 and 8,000 bacteria within five seconds; within 10 seconds, the amount of bacteria on the food leapt 10 times. Basic hygiene should keep most of these nasty germs at bay; even so, scientists say no one should eat anything that has come into contact with the floor, no matter how brief.
Continue Learning about Digestive Health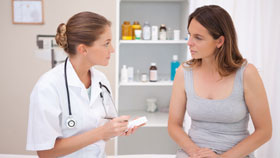 The digestive system includes all parts of the body that process food and expel waste, from your mouth to the end of your digestive tract. Diseases of the gastrointestinal tract prevent your body from effectively using the food yo...
u eat. Learn more about digestive health from our experts.
More