The pancreas is made up of five types of islet cells, which manufacture hormones such as insulin.

First, there are the major beta cells, which are 65 to 80 percent of islet cells in the pancreas (which manufacture hormones). These produce insulin-the hormone that helps the body store and use glucose.

Next, there are alpha cells, which are 15 to 20 percent of hormone-producing islet cells in the pancreas. These release a substance called glucagon, which forces your body to make more glucose when you're exercising (and helps break down fat in this process). And you thought huffing, sweating, and getting hit on were the only things that happened during exercise.

Third, delta cells are part of the feedback loop in the pancreas; remember that almost all biologic processes have a built-in "off switch" like this. These islet cells produce somatostatin, which among other actions turns off the alpha and beta cells.

Fourth, PP cells may sound like code for pre-school bathrooms, but these islet cells contain pancreatic polypeptide and prevent pancreatic enzymes from being secreted into the gut after a protein meal, fasting, and exercise.

Finally, a few epsilon cells contain the hormone ghrelin, which stimulates our hunger and very often causes us to eat like a bear in a stream of salmon.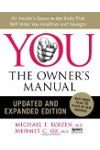 Continue Learning about Digestive Health