Your gall bladder is a pear-shaped organ under the liver that stores and concentrates bile fluid produced by your liver. There are a couple of reasons for gall bladder removal, ranging from indigestion to inflammation. There may be dietary restrictions post-surgery. They include limiting fatty, greasy foods because bile acts on the fat droplets in the small intestines to keep them from aggregating (coming together to form bigger droplets affecting intestinal absorption). Foods such as processed meats, sweets with a high fat content and deep fried options should be avoided in the beginning after surgery. Diarrhea is a common side effect from surgery that occurs in approximately 10 percent of patients. The speed at which bile is released into the small intestines is increased which causes food to pass through the digestive tract faster, leading to diarrhea. The more of the aforementioned type foods you can avoid, the closer you will be to having everything feeling normal.
Continue Learning about Digestive Health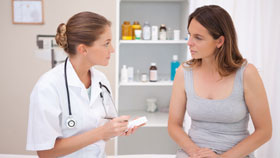 The digestive system includes all parts of the body that process food and expel waste, from your mouth to the end of your digestive tract. Diseases of the gastrointestinal tract prevent your body from effectively using the food yo...
u eat. Learn more about digestive health from our experts.
More