A few tips about how to describe your stomach ache to your doctor:
• Describe Your Pain: First, tell your physician where it hurts using the
abdominal clock. Then, be sure to be as accurate as you can with
adjectives like: dull, sharp, crampy, achy, bloat, etc.
• Rate Your Pain: On a scale of 1 - 10, with 10 being extreme pain.
• What Makes it Worse: Let your physician know what activities or
positions increase your pain. For example, laying down, eating, drinking
coffee, etc.
• What Makes it Better: Have you found any ways to ease your pain? This
includes OTC medication and physical conditions like standing or burping.
Continue Learning about Digestive Health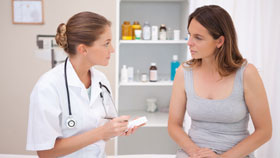 The digestive system includes all parts of the body that process food and expel waste, from your mouth to the end of your digestive tract. Diseases of the gastrointestinal tract prevent your body from effectively using the food yo...
u eat. Learn more about digestive health from our experts.
More