Definitely talk to your doctor about your peptic ulcer symptoms. If you have a peptic ulcer, the cure can be simple, but it probably requires prescription medications. Another reason to talk to your doctor is that untreated ulcers can lead to serious complications. An ulcer may start to bleed, causing anemia or low blood pressure. If the ulcer is severe enough to create a hole in your stomach wall or small intestine, an infection can occur and should be treated immediately. Some untreated ulcers cause scarring or swelling and block the opening into the small intestine. This makes it impossible for food to pass through and be digested.
Continue Learning about Digestive Health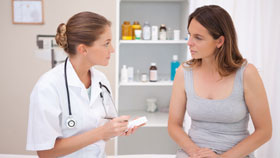 The digestive system includes all parts of the body that process food and expel waste, from your mouth to the end of your digestive tract. Diseases of the gastrointestinal tract prevent your body from effectively using the food yo...
u eat. Learn more about digestive health from our experts.
More